Ember helping out in your community
Employee volunteerism is a high priority at Ember. We encourage a boots-on-the-ground approach and support our employees to volunteer, lend a helping hand and get personally involved in initiatives that are important to them and their families.
We believe that hard work and lending a hand will make a difference. As part of our local communities, we are continuously working alongside our neighbours to support organizations and causes that matter. We know that our success comes from having the backing of the communities in which we live and work, and we are committed to helping our communities flourish.
Our focus is on supporting efforts that are brought forward by people living in the community, who best understand their own unique needs. We encourage employee participation in community initiatives and support their personal involvement through volunteer work.
Our greatest reward comes from supporting children's programs in rural jurisdictions where Ember operates. We support a wide variety of organizations on an ongoing basis, as well as ad-hoc events on request.
In 2022, we formalized our Community Investment strategy to effectively support our local communities. Our five pillars include: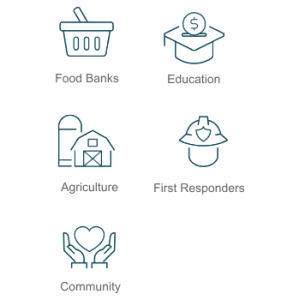 Ember is proud to have surpassed
$1M
in cumulative charitable fundraising
Working with Partners to Reduce our Impact
Ember is committed to treating all landowners fairly and equally for leases on comparable lands. We engage and negotiate with landowners in the agricultural community to secure leases for surface rights for our operations.
Our goal is to utilize minimum disturbance of surface rights in our operations, reducing the impact on the agricultural operations allowing farmers to safely continue their operations in closer proximity to Ember's infrastructure.
We actively engage with landowners to reach reasonable compromises with affected surface owners. In the event of a disagreement over surface rights, our landowner partners have access to a dispute resolution mechanism through the Land and Property Rights Tribunal, an independent quasi-judicial tribunal established by the Government of Alberta. As the operator, Ember is responsible for covering any costs of the landowner during the Tribunal process.
Indigenous Partnerships
Ember upholds the rights of local First Nations, and we are committed to honouring our commitments with Indigenous partners. We currently have minimal operations on two Indigenous Nations in Central Alberta. We work alongside these Nations and strive to respect and learn more about the history, culture and traditions of the Indigenous Peoples.