Sustainability
Ember recognizes our responsibility to the environment and our role in driving the energy transition. We are focused on creating a sustainable energy future for generations to come.
Environment
Our locally produced unconventional natural gas is a low-cost, long-life natural gas resource. Our natural gas is considered the cleanest burning fossil fuel available today due to the lack of liquids in our gas stream and our heat content. Used to heat homes and businesses throughout Alberta and across Canada, it has among the lowest carbon intensities of all fossil fuels.
Shallow gas plays an important role in the energy transition as a low-emissions stop gap to renewable energy and in bridging the gap between future energy demands and declining conventional gas production. Despite the very low emissions intensity of shallow gas, we are continuously striving to reduce our impact on the environment and to reduce emissions.
We acknowledge Canada's increased commitment to lowering its emissions through the Paris Agreement, to reduce emissions 40-45% below 2005 levels, by 2030. We are committed to mitigating climate impacts, while continuing to provide a safe and reliable energy resource.
Reducing Emissions
We are using the tools and resources we have today to reduce avoidable, methane vent emissions across our operations, making our already low-emissions shallow gas even cleaner. Ember currently has 9 facilities with instrument air installed and 19 methane vent recapture systems installed. Both setups eliminate the need to vent methane to the atmosphere.
Ember prioritizes limiting localized emissions and air pollutants, and as part of our emissions reduction program, we have upgraded our engines to a cleaner burning model, reducing Ember's NOx emissions by 2,000 tonnes CO2eq per year.
In 2022, we undertook a number of initiatives to reduce methane vent emissions across our operations and explored opportunities to integrate Carbon Capture and Storage (CCS) in the future. Technological and process improvements across our operations led to Scope 1 emissions reductions of 36,245 tonnes or 6.7% year over year. Ember has been creating carbon credits under the Instrument Air and Methane Vent Recapture systems since 2017 and has created over 660,000 carbon credits to date.
Land and Reclamation
Ember is committed to restoring and reclaiming land to its original state.
Ember's Environmental Management System and workflow process ensures that biodiversity is protected and conserved through responsible site management and resource management throughout a well's lifecycle.
Ember is a leader in cleaning up and reclaiming wells that have reached the end of their lifecycle. Ember has one of the lowest inactive well rates in Alberta at 4%, compared to the industry average of 26%. Ember has received 360 reclamation certificates and is currently committed to ongoing restoration on over 1,000 sites with the intention of achieving full reclamation status over the next 5 years.
Ember is not only undertaking significant remediation and reclamation activities on its own wells, but also demonstrating leadership. Ember's CEO, Doug Dafoe, serves as Director of the Orphan Well Association and has seen the direct impact of abandoned and derelict well sites in the province of Alberta. His leadership in this area demonstrates Ember's commitment to restore and reclaim land to its original state.
Water
Ember's well completion operations don't require water, which also means we don't use any proppants or chemical additives.
Ember does not use water in the extraction of hydrocarbons because our well stimulations employ 100% nitrogen. However, Ember does use limited amounts of fresh water during our drilling operations and well abandonment programs.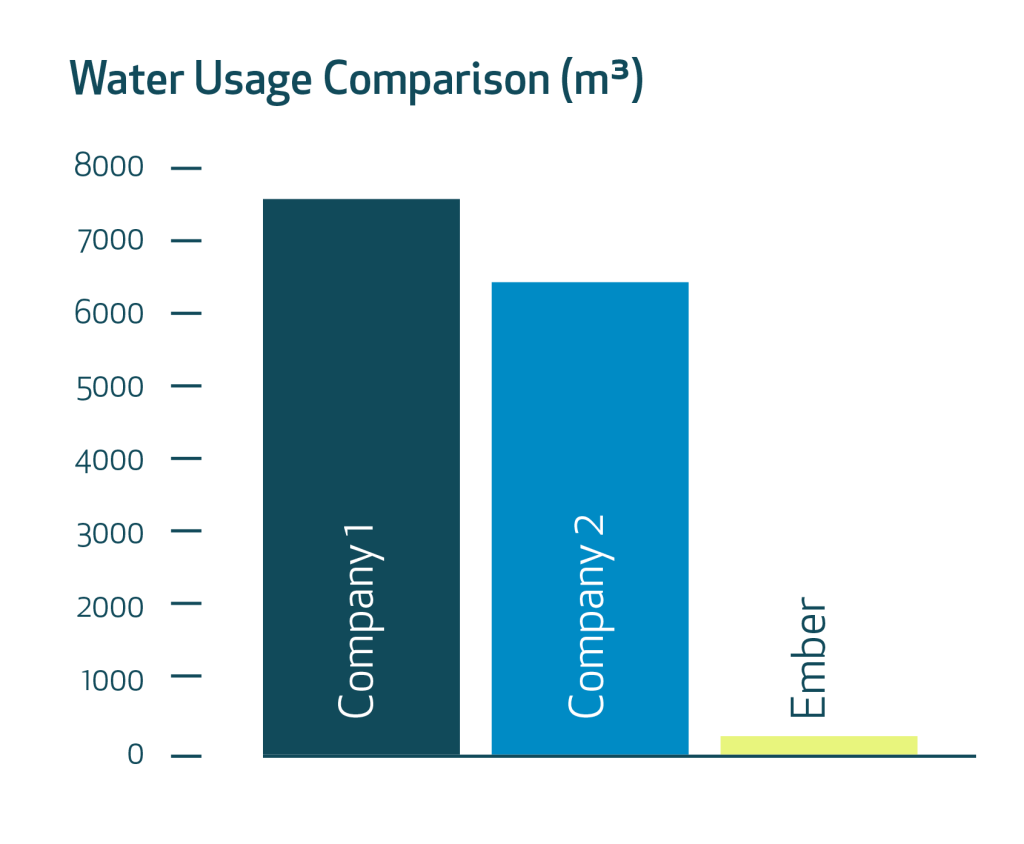 We use coil tubing units on site to stimulate shallow gas production without toxic components or additives. These well stimulations inject high-pressure nitrogen (N2), the inert gas found naturally in our air. Ember does not employ hydraulic fracking as part of its extraction processes at any of its operations. Limited amounts of fresh water are used during drilling and well closure activities.
Innovation and Collaboration
Ember is continuously exploring technologies that will support our operations in becoming more environmentally and economically sustainable long-term. In 2022, we advanced our fugitive methane emissions case study and are advancing projects in methane emissions monitoring, carbon capture, and water conservation.
Ember is partnering with start-up Qube Technologies to improve data around methane monitoring. The approved Alternative Fugitive Emission Monitoring Program for continuous methane monitoring has installed continuous methane monitoring devices at 25 faciity sites to manage fugitive emissions more effectively and ultimately reduce overall vent emissions.
Ember also has an agreement with Voltus, a distributed energy platform, to shut down its compressors when needed to help make Alberta's power grid more flexible and more resilient.
PARTNERSHIPS
We are leaders in our industry, but we are also neighbours in the towns, ranch lands, and farms throughout the southern landscape of the province. Ember takes a solutions-based approach with the goal of creating positive, long-term outcomes to shared community challenges. Ember's large infrastructure of low pressure pipelines are able to play a role in transporting renewable natural gas from local agriculture operations to market. We work collaboratively with landowners and farmers to reduce the overall size of our well footprints, returning a sizeable portion of the land to a pristine state for the landowners' use.
Our goal is to utilize minimum disturbance of surface rights in our operations, reducing the impact on the agricultural operations allowing farmers to safely continue their operations in closer proximity to Ember's infrastructure. This means that Ember gives farmers and landowners additional land back for crops and other productive purposes. It also reduces our environmental surface footprint and reduces the restoration requirements during closure operations.
We are also committed to remediating and reclaiming wells that are no longer productive. In the past two years, we have remediated over 600 non-producing wells, and have returned the land – or are in the process of returning the land – to the landowner in the condition they expect it.
Indigenous Partnerships
Ember upholds the rights of local First Nations, and we are committed to honouring our commitments with Indigenous partners. We currently have minimal operations on two Indigenous Nations in Central Alberta. We work alongside these Nations and strive to respect and learn more about the history, culture and traditions of the Indigenous Peoples.